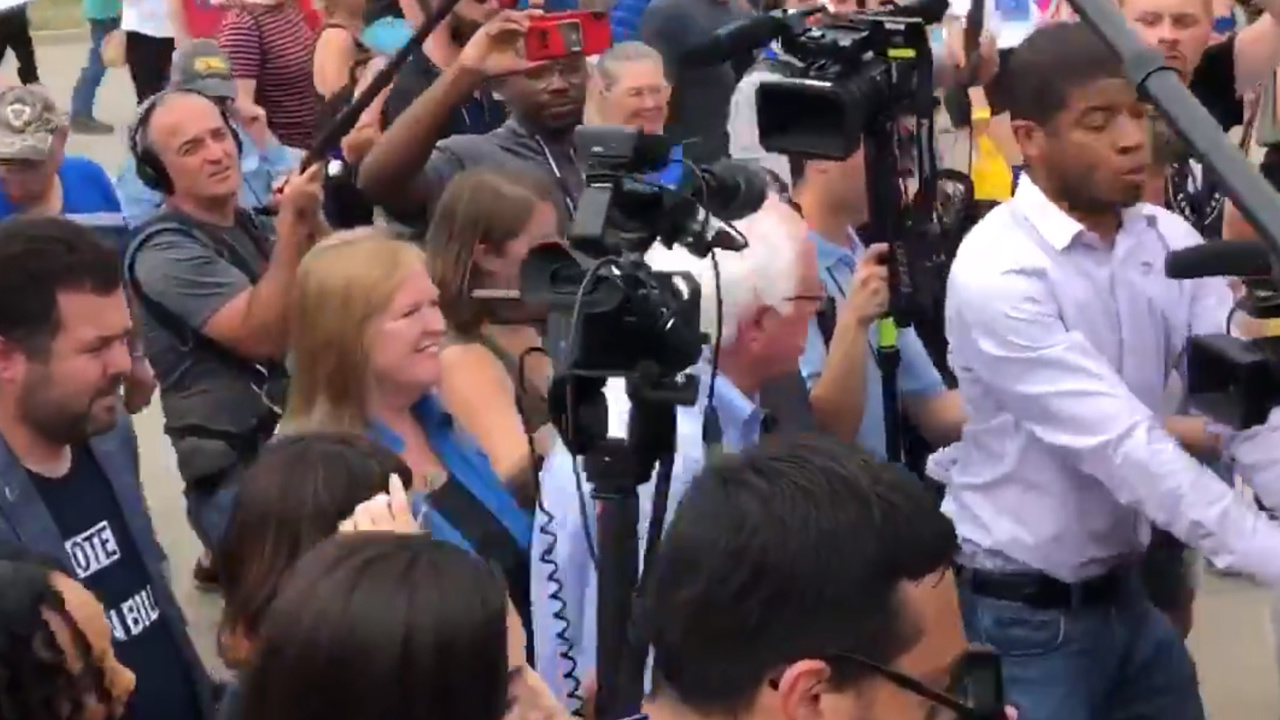 In a widely covered incident in this past June, Trump press secretary Stephanie Grisham was manhandled and left bruised by North Korean security as she attempted to protect U.S. reporters from being shut out at the hands of dictator Kim Jong Un's guards.
If, a month or so later, President Trump's secret service agents or staff were to likewise get rough with reporters, particularly a female journalist, the comparison to Kim would be at the top of every story on the subject. And there would be a LOT of those stories.
But when, at the Iowa State Fair candidate boondoggle weekend, staffers for the Bernie Sanders campaign were involved in just such an incident, the comparable quite from the press was deafening.
The Washington Examiner's report is pretty damning.
A campaign staffer for Bernie Sanders was screamed at by a local photojournalist who was repeatedly shoved following the Vermont senator's remarks at the Iowa State Fair.
The Examiner reports that this particular confrontation took place after multiple instances of members of the campaign staff pushing local journalists out of the way.
Photos and video from Bernie's walk through the fair grounds show a sea of cameras and microphone surrounding the candidate, and apparently the campaign staff were simply elbowing and shoving their way through it.
.@BernieSanders arrives at the #IowaStateFair (flanked by @edokeefe @CaraKorte @GaryGrumbach) pic.twitter.com/owGmrgKdDo— Bo Erickson (@BoKnowsNews) August 11, 2019
"Do not put your hands on me. You keep pushing me," they quote a female photographer, yelling at one of the campaign staffers doing the shoving.
Security for the event, as well as members of Sanders' campaign, repeatedly grabbed and shoved members of the press. One staffer for the Des Moines Register pushed a gate into a reporter for the Washington Examiner after telling him that "not all press" would be allowed to follow Sanders around.On Twitter, Nathan Wurtzel points out that this isn't the first time such mistreatment of the press by Democrats has taken place, nor the first time it has been accepted or ignored.
MSM always allows Democrats to push them around. I remember when they were locked in a closet without their phones at an Obama event…and they took that treatment. Unbelievable. Bernie Sanders staffers manhandle press at Iowa State Fair https://t.co/k9QrUttnZh— Nathan Wurtzel (@NathanWurtzel) August 12, 2019
You might call that a pattern. But not if you're a reporter in the mainstream press utterly convinced that helping Democrats is part of your ethical obligation as a journalist.
Original Article : HERE ; This post was curated & posted using : RealSpecific
Best Clickbank Products